Player's Guide for Playing Online Poker for Real Money
Online poker is offered in three ways, live, table, and video. Every game will have its game rules and strategy, which is imperative for you to learn if you want to succeed and earn money while playing online poker for real money. This guide is designed to help you play with success, whether you are using strategies and tips, or going with the style you have perfected in a land-based casino.
The online world of poker is exciting, livened by chat rooms, and cameras sending live feeds to your living room. It is also a place for everyone, where the table limit is something that is affordable for your pocket book. Land-based casinos may require $5 for a table poker game, but online there are some tables as low as $1. The choices you have in online poker for real money will keep you entertained and give you new games to learn.
Games Variations
Online poker is available in video, table, and live versions. The rules and strategies will vary for the type of game you choose to play.
Video Poker – more like slot machines, video poker is a machine, run by a random number generator, where you are playing a draw poker game. Video poker usually has wild cards, a bonus round, and jackpot. You play against the computer dealer, and wins are automatically provided.

Table Poker – the games can be a variation of draw or stud poker, and are most often related to Hold'em games, such as Texas Hold'em. These games are played on a virtual table, typically with chat options on the side, and a virtual dealer. Other players can join the room and play against you or the casino.

Live Poker – live poker is played with a live dealer in a studio. The dealer is going to provide the cards, chat with all the players via video and microphone, and keep track of the winnings. The camera views are usually 360 degrees of the table and your cards to help you play with the same strategy as you would play in a land-based casino.
How to Play Online Poker for Real Money
Depending on the variation of poker you choose, the play method will differ.
Video Poker – choose the game you want to play. Learn the rules regarding wild cards, and the minimum winning hand. Choose the coin amount to wager on the round, decide if you are going to keep or replace certain cards, and let the machine determine the win.
Table Poker – enter the game you want to play and the amount you will ante to start the game. As the cards and river are dealt determine if you wish to raise your wager or fold. All the moves you can make are displayed on the screen, and you will select the move with your mouse.
Live Poker – with live poker, you speak with the dealer via your microphone and camera. You tell the dealer what you want to do, such as wager to keep in the game, call, fold, or raise the stakes.
Main Features | Bonus Features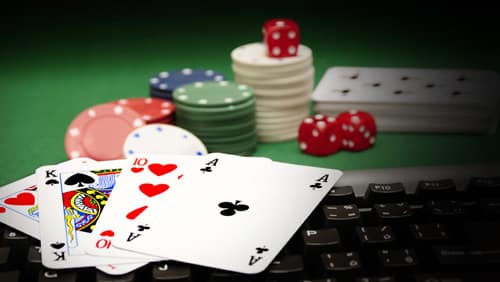 The main features in poker are the hands you are going to make to win the game. You have three variations to choose from when it comes to the way to play poker, and then the features will differ based on video, table, or live dealer choices. You will have to make a hand with five cards in most games. If you play Hi Lo poker, then you have seven cards to make a high and low hand.
In video poker, there are bonus features. The main feature is a gamble bonus, where you can stake your current winnings against a bonus round. The choice is between the next card being red or black. It is a 50/50 win or loss because the card could be red or black.
In some of the table games you have a progressive jackpot side bet to place, where you attempt to gain the best hand, the royal flush and win the secondary jackpot.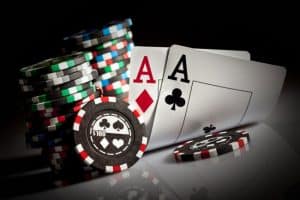 Game Rules and Strategies
The rules are simple. You cannot use a software to trick the game. You need to maintain floor casino rules when playing table and live dealer games. No inappropriate language is allowed, and you are not supposed to be rude during gameplay.
For strategies, it is best to assess poker strategies that use a play or fold concept based on the cards you hold and the other cards visible on the table.
Platforms the Game Is Available On
Playing online poker for real money is possible on three platforms.
Download – you can download a casino's full file and play from any desktop, whether you are connected to the internet.
Flash – a browser-based version that requires internet and a website login.
Mobile – Samsung, iPhone, tablets, and any device with Android, Windows, and iOS can access the mobile version of online casinos and online poker.
Impressions for Real Money Play
Playing online poker for real money is an entertaining way to spend a little time on your way to work using public transportation, playing games at home, or enjoying your favourite casino games when you cannot get to a land-based casino. Online poker is available in three different types, with a myriad of variations from stud to draw poker, including Hold'em and Caribbean stud. You can choose the game of choice or learn a new game.
The key is to develop a strategy for the game you like, learning the rules for the hands you can make, and get the best hand possible or fold when you cannot.
Ready to play? Start by signing up with one of our recommended online casinos for real money poker.
Top Welcome Bonuses