Firstly, we love the name of this casino. Tangiers is one of our most favourite cities in the world, with this Moroccan location boasting some beautiful sights considering it's where the Atlantic Ocean meets the Mediterranean Sea. We were hoping to get that sort of exotic feel from the Tangiers Casino and we weren't disappointed by a theme which includes images of explorers, women dressed in traditional dresses and pots of gold sitting alongside a rhino.
We want an online casino that is an assault on the senses (in a good way), while we need to find a massive range of pokies that is going to keep us coming back for more. If you can throw in a live casino, some classic pokies and a combination of table games and video poker, then you've got yourself a winner and we're bursting to tell you about all the reasons why opening a Tangiers Casino online account makes complete sense.
How to Claim the Tangiers Casino Deposit Bonus
Nothing says "come to our casino" better than a welcome package and it's fair dinkum to see that you can enjoy a 750% bonus when it comes to your first three deposits at the Tangiers Casino. It all starts with the first deposit where a 200% bonus is offered and, for the record, that means you will get your original bonus doubled.
The second deposit involves a 250% bonus so you'll see that this casino is actually getting more generous which isn't something you see with every operator. This trend continues with deposit number three where a whopping 300% bonus is provided and that all amounts to 750% bonuses in total.
When it comes to the actual cash that's on the table, we did some digging around and came up with the following:
All new players will be offered a special Welcome package for their first 3 deposits:
1st Deposit, you receive 200% up to $2,000 bonus
2nd Deposit, you receive 250% up to $2,500 bonus
3rd Deposit, you receive 300% up to $3,000 bonus

How to Claim Free Spins Without Making a Deposit
If no deposit free spins don't get you excited, you might want to check for a pulse! There are two key reasons why this is a great thing to receive; firstly you don't need to risk any of your own cash and secondly you get free spins on the pokies. It's pretty much like Christmas Day without the relatives that you have to put up with during the course of the holidays.
OK, so the Tangiers Casino free spins are in your account when you have registered. You get 25 Free Spins and it's a great way of kicking things off. Not only can you play pokies for real money, but you can also try out slot games and see if you enjoy playing them before parting with any of your own money.
You will be able to see the featured games that have Free Spins available by accessing the Free Spins section of the homepage. There's a pokie for everyone and there are also more free spins available when you make those first few deposits into your account.

Enjoy Free Spins on Your 1st, 2nd and 3rd Deposit
Sometimes it's great to get your head in a spin, especially if it's a free one! When you are making those 1st, 2nd and 3rd deposits with Tangiers Casino, the beautiful thing is that you are generating 30 free spins, 50 free spins and then a further 30 free spins. That amounts to 110 of the bad boys and the good news doesn't end there.
While some online casinos will credit any casino free spins winnings as bonus credits, the Tangiers Casino are willing to credit you with CASH up to a maximum value of $200 and that's a wonderful gesture which means you are free to withdraw the money at the drop of a hat.
More Promotions Than You Can Shake a Stick At
Get your biggest stick and shake it when we tell you about the other promotions that exist at the Tangiers Casino. We recommend you land yourself the welcome package first and try to squeeze every last drop from this promotion. Once it's all gone, you can then focus on these added value offers where there are additional opportunities to boost your casino balance.

Daily Promotions: Magnificent Monday, High-Stakes Tuesday, Wonderful Wednesday, High-Stakes Thursday, Full House Friday, Super Saturday and Super Sunday make every day of the week special at Tangiers. There are deposit bonuses up for grabs depending on how much you put into your account and it's always worth claiming a bit extra.
Grand Slots Mania: Tangiers Casino will regularly stage a Grand Slots Mania promotion where there's a $7,500 first prize (or at least there was when we played it). It's a simple case of depositing a minimum of $50 and playing the selected games: Queen and the Dragons, Northern Gods, Vegas Riches, Super Sweets, Bamboo Rush and Dragon Kings. You get 5 points for a win, 15 points for 3 wins on the spin and 20 points for 3 losses on the spin. There's also 150 points if you win as big as 10x your stake.

Rush Reel A Rolex at the Tangiers Casino
Rolex is pretty much the leading brand when it comes to high-end watches and Tangiers claim that it's a "tournament ahead of its time" (we like what you did there guys). You automatically enrol for this promotion simply by being a customer and visiting the pokies, with the top prize being a watch that is priced at around $12,500. Please note that this is a high-roller promotion where a minimum deposit of $5,000 is required.
A point is earned for every $1 wagered on any pokie game and there are cash prizes available if you miss out on the top spot, with a leaderboard created so that you can chart your latest progress to determine whether you're in with a shout of landing a watch or some loot. Please always gamble responsibly and you might find you win on the pokies even if you don't cash in on a prize.

Join the Brand New Races on 5th Street
We're still trying to work out why Tangiers Casino have decided to name this promotion "5th Street Races" although this is a brand-new release where casino customers can chase down some small cash prizes. For example, there might be a Race for $120 where you can compete for the loot over a short timeframe and it's a case of making a minimum number of spins for a particular stake.
There are Races for Spins taking place at regular intervals and we recommend starting off with small stakes to make sure you understand the format, although they can be an exciting way of enjoying the latest pokies and also landing some extra cash as part of the equation. As per other promotions, you get awarded points for three wins / losses in a row along with every win and a big win.
A Casino is Only as Good as its Pokies!

You can have a welcome bonus that wows the crowds and promotions which are more sparkly than the brightest star, although an online casino is nothing unless there are pokies spilling out from every angle. Customers want bright colours, exciting sounds, lots of pay lines, even more scatter symbols and the chance to have an immersive gaming experience with a whole bunch of software providers.
First thing's first, you can play over 1,000 real money casino games so it's a bit like going to an all-you-can-eat buffet when you're really hungry. What we really love about Tangiers Casino is the fact that you can sort the pokies according to software provider and it's fair to say that slots fans tend to have personal favourites on this front.
IGTech, Betsoft, Octopus Gaming and Vivo are the "Big Four" who are currently taking residence in Pokie-ville, with IGTech the absolute king when it comes to video pokies. For example, you can play 3 Witches, Caishen's Fortune, Queen and the Dragons and Wolf Treasure among other titles. There's a chance to try a lot of these games out for free which we feel is an excellent way of introducing pokies to new players.
Don't forget that you can use some of those Free Casino Spins when you visit this section, with the games really fun to play and they all have a different theme. There are also multiple look and feels, sound effects and you should check out the various ways in which you can win before deciding to go ahead and play for real cash.
The Tangiers Casino UX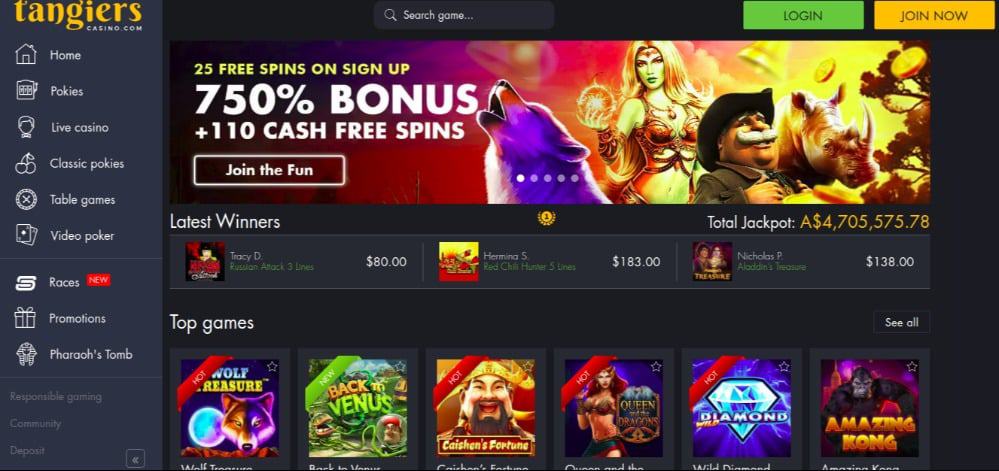 We've enjoyed our time at the Tangiers Casino and they have clearly put a good deal of thought into the structure of the website and the overall game play. There is a rotating slider on the homepage which provides details of the welcome package, existing player promotions and some of the latest releases such as iGTech's Inca Jewels and Betsoft's Back to Venus.
In addition, you can see the total jackpot amount that is currently available along with the Latest Winners and there are clearly plenty of customers striking it rich every hour. The pokies are all neatly laid out and can be ordered in a way that suits you, while it's super-easy to dart across to the Live Casino where you will find Vivo serving up various games.
Tangiers Casino have a neat line when it comes to offering Classic Pokies, Table Games and Video Poker, with all game play proving to be particularly slick. The real jewel in the crown are the new pokie releases and it's clear that this online casino want to provide a modern gaming experience which matches any other provider.

How to Play Live Casino with Tangiers Casino
There was genuinely a time when the only way to play live casino games was by dressing up in smart clothes, providing plenty of identification before being allowed to visit a bricks-and-mortar establishment where you could play roulette or blackjack. Thankfully, those days are gone and you can play Live Casino in your pyjamas if you wish thanks to playing through your online account.
Vivo are the software providers who facilitate a number of live casino games at Tangiers Casino, with customers currently able to choose between Blackjack VIP, English VIP Roulette, Live Roulette, Princess Roulette, Roulette and VIP Roulette. There is high-definition quality when it comes to accessing these games and a professional dealer is waiting to take your bets.

How We Rate the Customer Service at Tangiers Casino
You'll find a Help section at the foot of the homepage and this enables you to view the FAQ's or a Contact Us link should you wish to get in touch with Tangiers Casino. You might need to solve a payment query or alternatively want to find more information regarding the welcome bonus and it's pretty straightforward to get issues like this ironed out.
Tangiers have staff around on a 24/7 basis and you can contact them through the email address that is listed on the site, with someone polite and efficient getting back to you within the space of a couple of hours. There's no phone number or Live Chat which might be an issue to some, although the FAQ's are always worth a visit for extra information.
Depositing and Withdrawing at Tangiers Casino
There are a handful of available options when it comes to depositing into your Tangiers Casino online account. Visa serves as the debit card option and MasterCard as the credit card option, with customers needing to deposit a minimum of $10 each time although a fee might apply, especially with the credit card choice.
Many casino customers are using cryptocurrency to fund their online accounts and bitcoin is an available payment method with Tangiers Casino, while there are also pre-paid payment methods in the form of flexepin and Neosurf. All deposit methods mean you can instantly fund your account, although the only withdrawal method is by bank transfer and we're talking between 5-7 working days for the money to come through this way.

Tangiers Casino Performs Well on Mobile
For some online casino customers, mobile casino is the only type of casino that they know. The gateway to the internet might always be in your hand or pocket, so it's vital that the likes of Tangiers Casino provide a cutting-edge gaming experience and we're pleased to report that mobile works like a dream (a good one, not a nightmare).
It came as no surprise to discover that the casino was as mobile-optimised as you can imagine, with the desktop version condensed down in a way which didn't compromise navigation. While the game play can only be as big as the screen that you are using, the pokies loaded up seamlessly and were every inch as immersive as you could hope them to be.
Everything is rock solid and secure on mobile too. Your personal details are kept completely safe and the deposit process is also protected by the best technology. The same applies to withdrawing funds and returning the funds back to your bank account.
Our Verdict on Tangiers Casino
Nothing quite compares to a visit to the real-life Tangiers, although we love the name of the Tangiers Casino and hope that they continue to incorporate plenty of elements of the Moroccan city into this online gaming site. They are certainly on point with customers who want to land themselves the most generous of welcome packages currently in existence.
It's not just the free spins you receive without making a deposit and the additional free spins that you get after making three straight deposits. It's the fact that you can keep your winnings as cash which is really impressive rather than having to turn over the cash on multiple occasions.
Plus we love the chance to rack up some deposit bonus along the way and you're spoilt for choice when it comes to the pokies that lie in wait. Tangiers Casino have struck deals with any number of software providers to make sure that you can enjoy the new releases or the classic ones if they float your boat more.

Read More